Along for the Ride: Weekly Newsletter on AVs and Urbanism - Issue #3
Happy Friday friends!
Without further delay, here's what happened this past week in the world of self-driving and cities.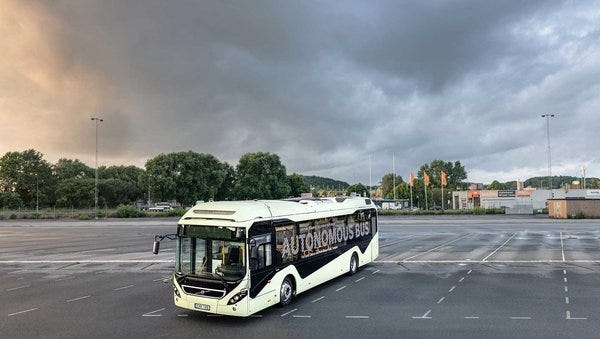 Volvo's Autonomous Bus.
Policy and Government
Industry
Research and Academia
Researchers from King's College London discuss how autonomous vehicles could make society more reliant on vehicles in Metro UK.


Curb access in cities is a hot commodity. The International Transport Forum has released a new report about how to manage the space. (link).

CB Insights highlights the impact of AVs on healthcare - including not only induced benefits, but also using the technology for ambulance services. (link).

As you may have been able to tell.. I have found a new platform for the newsletter! Part of me actually prefers the analog style.. I'll play around with it.
There you have it. Have a beautiful weekend friends!
Sarah
By Sarah Barnes
This weekly newsletter on cities, transportation and technology is curated weekly by Sarah Barnes, a transport nerd based in San Francisco, CA.
The newsletter encourages new conversations about advanced transportation technology, primarily autonomous vehicles, which focus on people, equity, design and the cities we want to (and need to) be building for the future.
If you don't want these updates anymore, please unsubscribe here.
If you were forwarded this newsletter and you like it, you can subscribe here.
Powered by Revue
San Francisco, CA