Along for the Ride: Weekly Newsletter on AVs and Urbanism - Issue #3
Esteemed subscribers, welcome to another week of self-driving cars and urbanization.
Without further delay, here's the round up:
Read of the Week
Allison Arieff, and urbanist and transport expert, writes about how American citizens can reconnect with one of their most beloved and hated assets: their streets. This NYT opinion piece tells the story of how Americans lost this relationship in the first place and how we might repair it now, highlighting projects by Greenfield Labs' National Street Service. (link).
Read this if you want to introduce AVs into cities with empathy.
Government and Policy
"Hindering innovation"
Brandye Hendrickson, Acting Administrator for the Federal Highway Administration in America this week was quoted in Philly saying, "We don't want to mandate the technology [Autonomous Vehicles] because we don't want to hinder innovation". (link).


If we as a society are going to reap the most benefits from autonomous vehicles, then we need to consider which policies will be useful in the future; it will be much harder to enforce policies once the vehicles have hit the road. Being proactive is not the same as 'hindering innovation' and we need all hands on deck to ensure federal policies are progressive yet appropriate, and most of all adaptable.

Lack of high-speed broadband access in small, rural communities could mean they are less likely to adopt AVs at scale. If not addressed, many states and smaller countries could see huge disparities between geographic regions, and face difficulty using AVs for long distance trips. (link).

The US Senate's glacial pace of policy innovation around AVs could mean other markets in Europe and China will develop faster. Organizations and public trials need the federal government to innovate when it comes to policy, in order to truly keep innovation moving forward. (link).
Trials
Safety Standards
The Hill takes a dive into safety standards for AVs, and how the current standards need to change. (link).


Forbes also examines how vehicle manufacturers will take over the insurance industry. (link).

A great piece to read about Functional Safety if you are unfamiliar with the concept. (link).
Industry
Uber in Cruise Control
Rumours point to a potential collaboration between Cruise and Uber, with Uber leveraging Cruise's vehicles to provide rides via their app in cities such as San Francisco. Neither company has confirmed this, but it is thought that these conversations began over a year ago. Both organizations also have hefty investments from Softbank, so it wouldn't be a far leap. (link).

Ford's Phantom Traffic
Ford models how adaptive cruise control (and AVs) can help reduce phantom traffic jams in a Fourth of July special. A phantom traffic jam is when traffic slows not because of an incident, collision or traffic light, but purely because of human error - braking too quickly or too soon. (link).

Partnerships
Audi and Cognata team up to accelerate the speed of innovation. (link).


Intel and Baidu. Baidu will adopt Mobileye's (acquired by Intel) Responsibility Sensitivity Safety Model which give cars a 'common-sense logic for driving safely. (link).

Lyft has acquired bikeshare company Motivate. Motivate is the largest bikeshare company in the US and runs iconic programs such as CitiBike in NYC and Ford GoBike in SF. Another example of how both Lyft and Uber are fleshing out their transport service offerings. (link).
On the Road Again
Cruise appears to be gearing up to launch on-demand ride-hailing services in San Francisco through their app, Cruise Anywhere. Estimated time of arrival is 2019. Will be interesting to see how this advancement coincides with their talks with Uber. (link).

Baidu's Self-Driving Bus Fleet is Here. And it's Big.
One hundred buses will be put into commercial operation in cities such as Beijing, Shenzhen, Xiongan, Wuhan and Pingtan of Fujian province - they will also extend trials to Japan. As always, I love seeing mass transport applications in the news. Moving away from private transport could have significant impact on China's traffic and air pollution levels. (link).

Research and Academia
Datasets
Researchers from UC Berkeley's AI Lab and Industrial Consortium have released the world's largest driving dataset, BDD1OOK. The dataset compiles over 150 million miles driven through a variety of geographic areas, and includes over 100,000 videos to boot. (link).


A report by BCG and WEF finds that self-driving cars would likely induce more traffic in Boston. (link).
SUVs are Killing Pedestrians
Not to state the obvious, but a report released this week demonstrates how the design of the vehicle lends itself towards deadly collisions, particularly for minority populations. I personally am most excited to see how autonomy shifts vehicle design, towards vehicles which are right-sized for passengers and less harmful to more vulnerable road users. (link).

Opinion
Will they or won't they?
The Wall Street Journal discusses the potential positive and negative impacts AVs may have on cities. The article emphasizes the fears contemporary urban planners hold about the technology, an often over-looked perspective. (link).
For your amusement
This crossed my inbox this week, and I figure this audience would appreciate it as much as I did.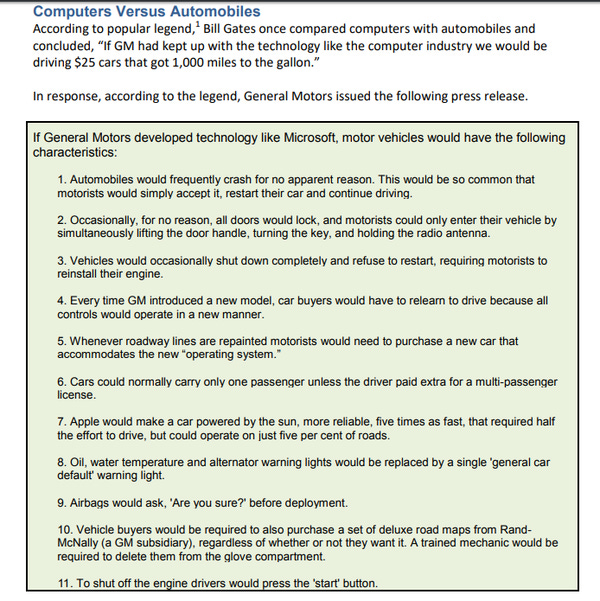 Have a lovely weekend friends.
By Sarah Barnes
This weekly newsletter on cities, transportation and technology is curated weekly by Sarah Barnes, a transport nerd based in San Francisco, CA.
The newsletter encourages new conversations about advanced transportation technology, primarily autonomous vehicles, which focus on people, equity, design and the cities we want to (and need to) be building for the future.
If you don't want these updates anymore, please unsubscribe here.
If you were forwarded this newsletter and you like it, you can subscribe here.
Powered by Revue
San Francisco, CA