Along for the Ride: Weekly Newsletter on AVs and Urbanism - Issue #5
Esteemed subscribers, welcome to another week of self-driving cars and urbanization. We have a new colour palette and I'm flirting with a new layout this week - I hope you enjoy it as much as I do.
Without further delay, here's the round up:
Read of the Week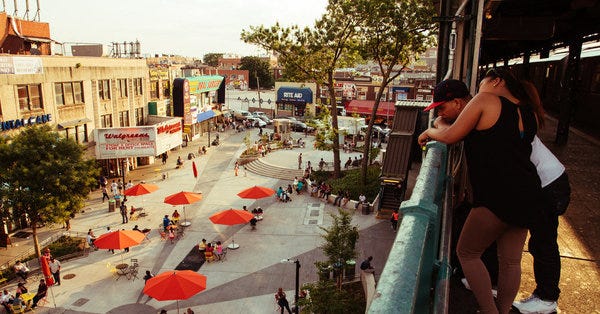 How Beautiful Public Spaces Reduce Traffic
The plazas in NYC might look like beautiful parks, but at their core they are designed to reduce traffic congestion. Improving and investing in public spaces can not only reduce congestion, but also makes streets safer while strengthening a sense of community. Not all traffic calming measures require sensors and cameras - some require trees, umbrellas, and an outdoor yoga class.
Government and Policy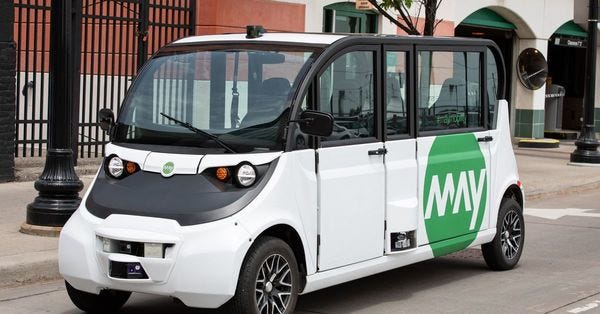 Across the world, trials of electric, autonomous shuttles hope to provide downtown cores with a new, more-adaptable, transport service. While most trials focus on downtown cores because they need rider density to prove their worth, I think the most interesting application of shuttles will be in low-density, transport-poor neighbourhoods. If we could influence behaviour in those landscapes to move towards shared mobility, we might actually be getting somewhere.
Boring Shuttles make for Blissful Rides
Taking over NYC's Time Square, Coast Autonomous shows off their shuttle - giving people a glimpse at a future where transport is on-demand, shared, and well, boring. The team emphasizes that self-driving cars should provide the most boring service - because the opposite is essentially what we have now. Boring is important because it means we are moving safely, efficiently, and without frustration.
… Am I biased towards shuttles? Absolutely.


Carlo Ratti x Sidewalk Toronto: The Dynamic Street
If you are unfamiliar with MIT Architect Carlo Ratti, it's time you became acquainted. A legend in his own right, his firm is working with Sidewalk Labs Toronto on a "prototype of a modular and reconfigurable paving system that hints at the possibility of the streetscape seamlessly adapting to people's needs". Streets have historically been seen as infrastructure which is near impossible to change: it is expensive, wasteful, and an organization nightmare. This new project not only reconfigures streets, but also our perception of them. You can view the exhibit in Toronto this summer.
MERGE Greenwich Calls for a City Mobility Taskforce
The consortium thinks an AV taskforce needs to be established, involving leaders from both government and industry. Their role would be to develop a vision and roadmap for implementing new services and technology which directly address the issues faced by cities and citizens in the UK. A taskforce is a great idea, but cities should also consider how they can convene themselves to lobby for their own interests and agendas.
The NHSTA in the US has decided to postpone federal regulation of self-driving cars, claiming it is too soon for this type of oversight. Safety advocates, planners, and others have found the federal government's approach to AV policy too relaxed, and fear that, if given free reign, the automotive industry will continue to work towards private interest and not public good.
While the AV START Act has stalled, some senators are refusing to let public safety go to the way-side and are trying to make nine different amendments to the current draft. As it is now, the bill would exempt AVs from many safety standards that apply to all other cars - for the sake of testing AVs. Proposed changes include a mandate that data recorded in crashes needs to be disclosed, and a requirement that AVs pass a "vision test" showing they can process visual information.
Ho Chi Minh City will Trial AVs
Vietnam's Ministry of Transport is supportive of a new trial. The trials will be run by local tech company FPT Software in a high-tech park located in the capital city.
Industry
INRIX's data platform allows for cities to go through the process of validating and managing their traffic rules, meaning that vehicle operators won't have to only rely on sensor-based machine learning methods of learning the rules of the road. Although, probably still a good idea for sensors to know what's going on as they navigate. INRIX is also working with MIT spin-off NuTonomy on the platform.
Austin, TX will be involved with the pilot. (link).
Forbes details industry activity, focusing on the plethora of action which happens outside of the confines of Alphabet's Waymo. A perfect read for anybody just dipping their toes into the sector.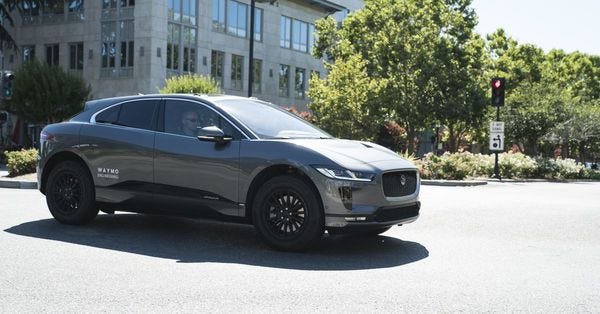 Speaking of Waymo: their new all electric SUVs have begun roaming the streets (with human-drivers and no self-driving kit). As they meander the Bay Area the vehicles are collecting design requirement data and developing durability tests. We will soon see how AVs can and will be a luxury good - for the few who can afford them first.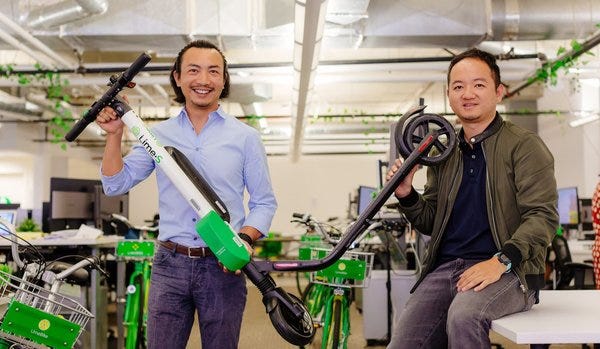 Uber and Google Ventures invest $335m in Lime - further expanding their investments in micro-mobility and non-vehicular ventures. From a business perspective, it's great to diversify revenue streams. From an urban perspective, it's crucial to diversify modal split.
I find it decently comical to know that this week a scooter and bike company raised triple the funding of a prestigious self-driving car company (this week at least). Pony.ai is sitting at a $1B USD valuation.
Imaging startup Light raises $121m. Their product is an alternative to LiDAR. Softbank is naturally one of the investors.
Booking.com has invested $500m in the Chinese firm. Booking.com operates firms such as Kayak and Priceline, and plan to begin offering rides as a part of their services.
And Zoox Beats them all with $630m
Softbank is thought to be an investor - they are also heavily invested in Cruise, Uber, and now Light (above). I'm beginning to think somebody at Softbank is a *huge* transport geek too.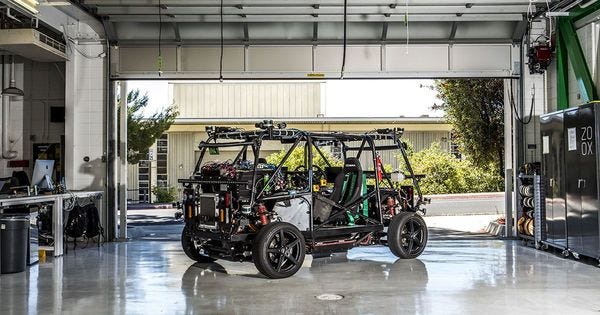 If you're not Familiar with Zoox.. Read This.
"Zoox founders Tim Kentley-Klay and Jesse Levinson say everyone else involved in the race to build a self-driving car is doing it wrong. Instead of retro-fitting existing cars with fancy sensors and smart software, they want to make an autonomous vehicle from the ground up."
Ready to Whim: Helsinki's bet on Mobility as a Service
Bloomberg details how Whim, a MaaS platform, works in Helsinki and why the city is good fit for such a trial. Whim's platform allows users to purchase a monthly mobility pass, which gives them access to bike-share, public transport, and car-share services. Whim is expanding their service to the UK later this year.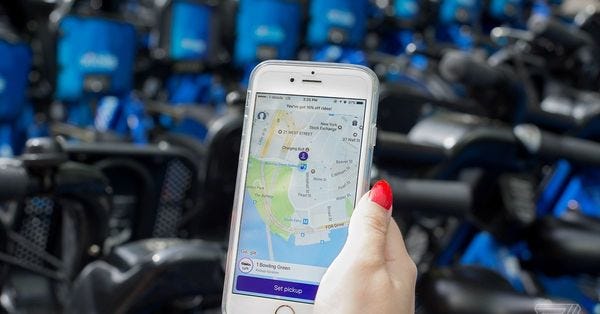 Between Uber and Lyft, it can be hard to differentiate who has acquired what new micro-mobility start-up. The Verge details how Lyft is offering discounts to users who use bikes or scooters to connect with public transport, in their latest multi-modal move.
Uber's Rachel Holt, Head of New Modalities, talks about the company's strategy to become a one stop shop for all modes of mobility. Like the board game Monopoly, but instead of going to jail when you pass 'go', you get your scooters confiscated by the city.
Research and Academia
California's DOT Releases Research on Technology Adoption and AVs
The researchers utilize the threshold model of diffusion and point to case studies of other technologies to gain information and make predictions about the future of AVs. This is jargon-y, but highly useful.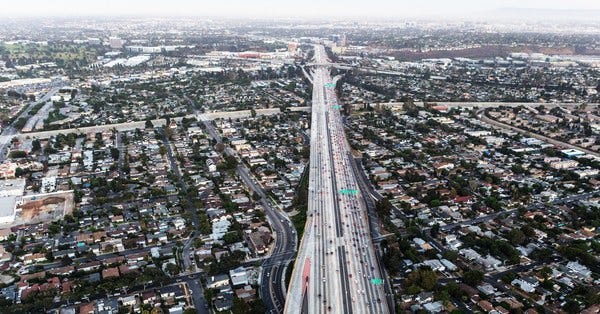 Research from UCLA shows how Lyft's services reach almost all neighbourhoods, but black customers still wait longer for rides. Critically important for the future of transportation is making sure that new services right the wrongs of decades of racialized transportation planning. Private sector mobility companies need to be vigilant about how their services are operated to ensure we do not continue this legacy.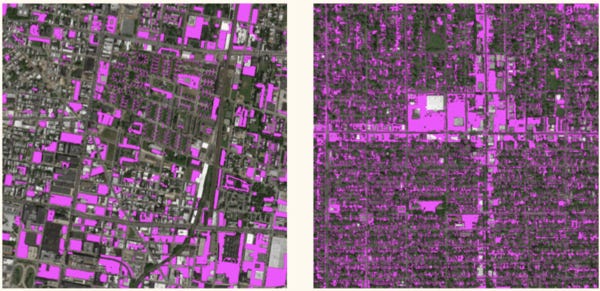 Think There's Not Enough Parking? Think Again.
Streetsblog USA details findings from the Research Institute for Housing America - in Philadelphia, there are 3.7 times more parking spaces than households. Essentially, the USA has massively overbuilt parking amenities, and this has cost the public an abhorrent amount of money (both as taxpayers and as drivers).
Purdue's Autonomous Vehicle Innovation Centre
Purdue University is investing in a new innovation hub for autonomous vehicles. The hub will not only focus on engineering and technology, but also public policy and social sciences. A+ for creating a holistic and multi-disciplinary centre.
Opinion
Self-Driving Cars Will Always Need Human Drivers
John Naughton in The Guardian: "If you believe the hype, you'll be expecting to see them on our roads any day now. Dream on. That doesn't mean that the technology isn't amazing. It is."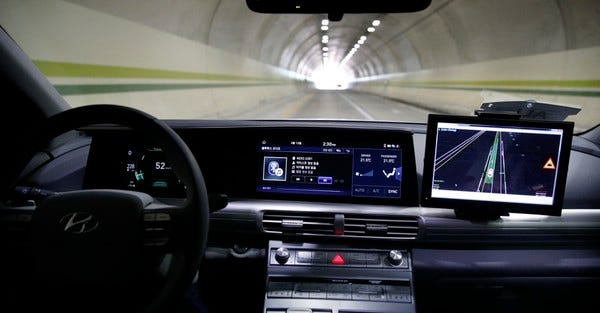 Why Cities Need to Prepare Now for Self-Driving
CityLab argues cities need to lead the charge when it comes to implementing AVs. This piece takes a particular focus on the job market, and questions if AVs will take jobs or create new and better ones.
WIRED details how self-driving car companies are struggling to manage public perception after the deadly collision in Tempe, Arizona. Department of Transportation Secretary Elaine Chao has challenged companies to "help educate the public about this new technology", as she believes its an overlooked component of implementation.
A Tipsy Run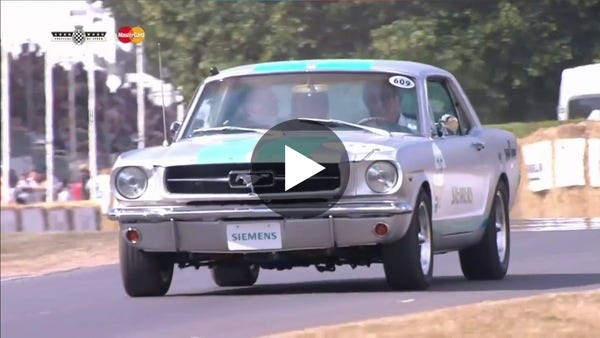 What a self-driving car looks like after a few too many Sangrias.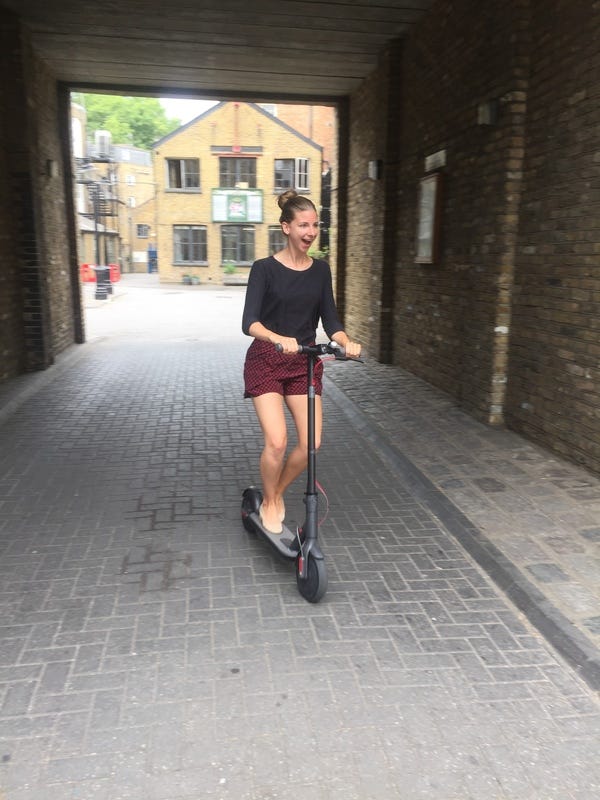 Have a beautiful weekend friends. I am zipping into the weekend, and I hope you are too.
By Sarah Barnes
This weekly newsletter on cities, transportation and technology is curated weekly by Sarah Barnes, a transport nerd based in San Francisco, CA.
The newsletter encourages new conversations about advanced transportation technology, primarily autonomous vehicles, which focus on people, equity, design and the cities we want to (and need to) be building for the future.
If you don't want these updates anymore, please unsubscribe here.
If you were forwarded this newsletter and you like it, you can subscribe here.
Powered by Revue
San Francisco, CA