Along for the Ride: Weekly Newsletter on AVs and Urbanism - Issue #7
Welcome to another week of self-driving cars and urbanization.
Without further delay, here's the round up:
Read of the Week
Can Self-Driving Cars Help Fix Public Transport?
Wired's headline picks up on a story detailed in the industry section below about Waymo's efforts in Phoenix to address first and last mile commutes in the city. It's chosen this week as the Read of the Week because I want to point out how dangerous the article's rhetoric is. Can autonomous vehicles fix public transport? No. It can help, but it can't save a city's public transport system from decades of neglected infrastructure and funding - for that the city has to save itself. If Waymo is going to invest in these linkages then Phoenix needs to invest in the services users will find on the other end.
Government and Policy
In the UK: DfT's Future of Mobility report causes a stir
Many UK journalists have picked up stories this week about the UK's Future of Mobility report released this week. While the country is undergoing extensive consultation, one piece of the report argues that self-driving cars could mean less parking in town centers over the coming decades - suggesting alternative use for the space such as "hundreds of thousands of new urban homes". With cities like London experiencing a massive shortage of housing (and a lack of government funding for social housing…), it'll be interesting to see how this all pans out.
In America: senate speeds self-driving bill?
After many months of delay, it appears the senate *might* be close to scheduling a vote for the bill, but as summer recess quickly approaches the exact date is still a mystery. The AV START Act would speed up the introduction of self-driving vehicles on public roads, and over-ride some state level legislation.
Related: an opinion piece in The Hill by Mark Riccobono, president of the National Federation of the Blind, about why the senate must act on this legislation. (link).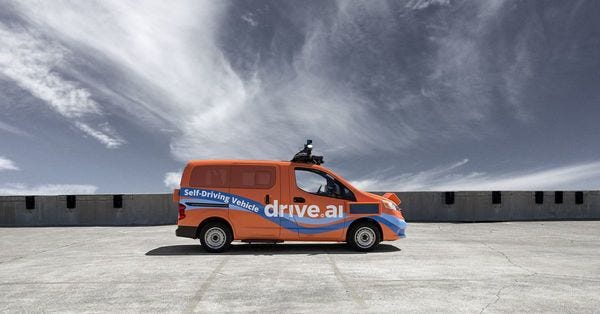 Drive.ai gets frisky in Frisco
Drive.ai launched a pilot this week in Frisco, TX just outside of Dallas. The vehicles have four LED screen which communicate with other road users within its area of operation: two square miles surrounding the Dallas Cowboys HQ.
A local community blog details 7 things to know about the service, geared towards residents in Frisco. It's a quick and enlightening read. (link).
How do we compare virtual miles to actual miles driven?
Mitch Turck discusses Waymo's eight million miles driven by their fleet on public roads, and compares this to the five *billion* virtual miles driven the company also has under their belt. Waymo's virtual miles driven equate to 5,000 lifetimes of human driving and well over a million times the experience demanded of teenagers before they receive a driver's license. He explores what this means for driving safety and the future of our roads.
PennDOT updates self-driving guidelines
Companies testing AVs in Pennsylvania may need a second safety engineer in the passenger seat in order to comply with new policy. If the vehicles will be traveling faster than 25mph, companies can choose to either have a second safety engineer present or for the sole driver to go through extra safety training. This policy came into effect August 1st.
Good to note here is that 25mph is hovers just between two important speed thresholds: when cars travel at 20mph people have a 90% rate of survival when there is a collision, but after 30mph it drops to 50%.
Renovo and aiPod partner, set sights on London
Renovo and aiPod plan to "enable companies to deploy commercial fleets of fully automated vehicles" and are hoping to begin testing on the streets of London by 2019. Their intention is to bring AV fleets to companies that are outside of the industry and interested in using AVs for their operations. No confirmation if London has approved this supposed trial..
NYC considers cap on ride-hailing vehicles
What has been common practice in the taxi industry for decades, may be coming to ride-hailing companies in NYC. The city is considering a cap on the number of for-hire vehicles roaming the city's streets in response to growing concerns (and complaints) about increased congestion.
NYT also covers how companies like Uber are finding unlikely allies during this time: civil rights activists. (link).
Tax ride-hailing now and 'robotaxis' in the future
With all the hubbub these past two weeks about ride-hailing in NYC (see above), many are discussing why taxing ride-hailing (and dare I say, road-charging) should be in place before AVs take over. "Policymakers are using congestion fees to encourage sharing and deter individualized driving while also raising revenue for mass transit." Road-charging per distance gives cities an opportunity to reduce congestion while unlocking funding for much need transport infrastructure, so I am all in.
The city has just announced a $100,000 partnership with Phantom Auto, a company that builds remote-driving solutions for AVs. The city is funding a project which will create "a live map of the city's cellular networks, which it will eventually use to teleoperate self-driving cars".
Industry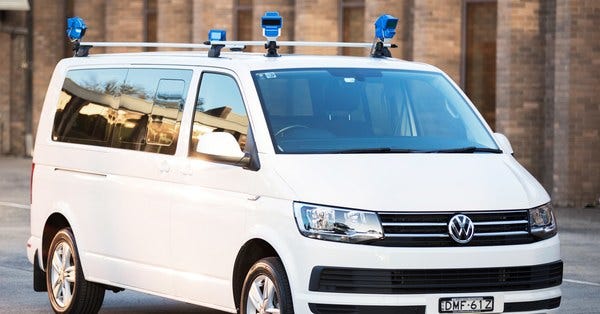 I did not know what "rainbow physics" was before reading this article, but with a name like that I knew it had to be good. Baraja has designed a "prism-based technology for self-driving cars [that] takes advantage of how wavelengths of light arrange themselves". This would replace a LiDAR based system. Hopefully there is a pot of gold for them at the end of their rainbow, I imagine Softbank already has their name on it.
Uber kills its self-driving truck unit
Uber acquired self-driving truck company Otto nearly two years ago, and since then things have been a bit rocky - between a lawsuit with Waymo and the death in Tempe, Arizona. While the unit might not be dead for ever, for now consider it off the roster.
Waymo partners with public transport
Remember how last week I said "I would believe it when I see it" re: Waymo partnering with public transport authorities? Well this week I am biting my tongue. Waymo has launched a last-mile partnership with the Valley Metro (in Arizona) to help link trips to public transport. The trials will at first only be open to staff at Valley Metro. See Read of the Week for a critical view on how this story was reported.
Musk revealed that Tesla is building its own AI chips that are "meant to be swapped into the Model S, X and 3 to do all the number crunching required to advance those cars' self-driving capabilities". The article describes how Nvidia's hardware handles roughly 200 frames per second, while Tesla's latest "Hardware 3" will be able to compute 2,000 frames per second "with full redundancy and failover."
Drive.ai's antidote to self-driving stress
Drive.ai has designed an in-vehicle display system which uses multiple visualization to share what self-driving cars actually see when traveling in autonomous mode. They also have that funky car travelling the streets of Frisco (above) with exterior signs to communicate with other road users. As with everything in life, communication is everything.
Research and Academia
NTU discovery makes LiDAR 200 times cheaper
Yeah, you read that correctly. Researchers from Singapore's Nanyang Technological University (NTU) have found a way to emit light from a silicon chip, meaning cars will not need to use laser diodes to generate laser beams. Diodes wear out faster than car tires because of all the spinning they do.
www.channelnewsasia.com • Share
MIT: The Impact of Autonomous Vehicles on Cities
Fabio Duarte gives a review of autonomous vehicles and their potential urban impacts. "We conclude by suggesting that AVs offer the first opportunity to rethink urban life and city design since cars replaced horse-powered traffic and changed the design of cities for a hundred years."
frog's design guide to self-driving
Design firm, frog, has just released it's latest insight report: "Preparing for the Unexpected Future of Autonomous Mobility". They put forward the design and strategy tools the automotive industry will need to leverage in order to succeed in a highly precarious and competitive market.
Opinion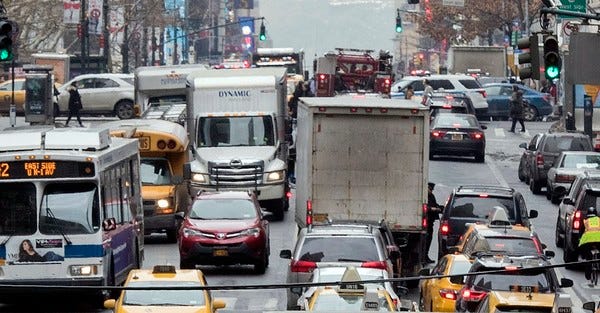 Founder of Zipcar takes a stab at what causes traffic
Robin Chase responds to research released last (The Schaller Consulting piece) which argued ride-hailing was inducing traffic in cities - adding 5.7b Vehicle Miles Travelled in six years over nine metropolises. Chase argues that while ride-hailing isn't solving the problem of traffic and congestion, it didn't create it either. Long before ride-hailing our streets were not liveable, and we need to get to the root of the problem sooner rather than later.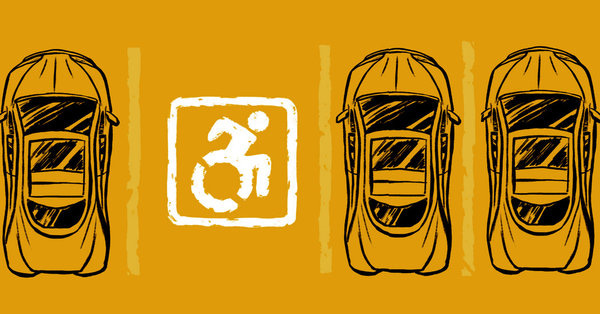 Why Auto OEMs need to follow through
In this interactive NYT opinion piece by Henry Claypool, a wheelchair user and Director of Policy for the Community Living Policy Center in San Francisco, he details how much people with impairments have to gain from AVs. But he also says they have to be apart of the conversation. "The people who stand to benefit most from self-driving cars need to be heard."
World's First Self-Driving Teen
Kyla Jackson, a teenager in Phoenix is one of the only teens in the world to get a ride to school from a robot. Read more about her commute, and why she's putting off getting her driver's license.
Transit Diaries: from an autonomous vehicle planner in Seattle
Yes Segura meanders the streets of Seattles by bike, advocates for young professionals in transport by day, and drives for Uber at night. He is as multi-modal as they come, and is keenly aware of the potential influence AVs will have on our streets. Curbed caught up with him for his transport diary, and I promise you won't want to miss it.
Have a beautiful weekend friends.
Sarah
By Sarah Barnes
This weekly newsletter on cities, transportation and technology is curated weekly by Sarah Barnes, a transport nerd based in San Francisco, CA.
The newsletter encourages new conversations about advanced transportation technology, primarily autonomous vehicles, which focus on people, equity, design and the cities we want to (and need to) be building for the future.
If you don't want these updates anymore, please unsubscribe here.
If you were forwarded this newsletter and you like it, you can subscribe here.
Powered by Revue
San Francisco, CA