Along for the Ride: Weekly Newsletter on AVs and Urbanism - Issue #9
A weekly roundup of the latest in autonomous vehicles and urbanism, with a human focus.
A few of you have asked about my bike-gig, and you can follow along with beryl's newsletter (curated by yours truly) here.
Read of the Week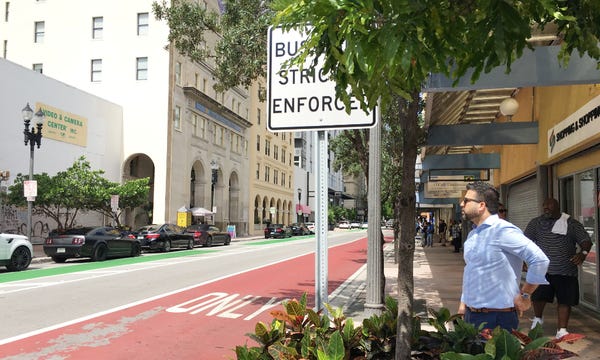 Mixing Things Up: Data-Driven Street Design
SF start-up, Remix, is partnering with six cities to prototype what data-driven street design can look like. All cities are based in North America, and will be using Remix's Streets Product to design streets that are safer, more sustainable, and more attuned to the ebbs and flows of urban life.
Ford Gifts US' DOT a Report on Self-Driving Safety
(This week you're getting two Reads of the Week. You are very welcome.) Ford details their on car tech and deployment plan in a report written for the Department of Transport. The company emphasizes that they don't want to rush to be first to market, but rather will slowly and steadily work towards providing the safest AV on the market, when the time is right. Waymo and GM have submitted similar reports to the DOT.
Government and Policy
China Welcomes National Standards for AV Testing
Twelve regions in China already had standards, but as they were not congruous with one another, a National level standard has been put in place. "The set of standards covers tests of vehicles in 34 traffic situations, such as slowing down after detecting speed limit signs and stopping when spotting pedestrians ahead".
Dubai's RTA Endorses Standards for Testing AVs
The government has said it will welcome AVs on roads in the near future, but there are no official dates in mind as of yet. According to this article the Road and Transport Authority (RTA) has held 66 workshops with auto OEMs and consultants to produce these standards.
In America: Trump Holding Back $1.4 Billion in Transit Funds
Funding earmarked for public transport (and already approved by Congress) is leaving multiple cities and transport projects in limbo. Streetsblog takes a jab at DOT Secretary Elaine Chao for her belief that cities needs to fund public transit while the national government should focus on highway funding. And rightfully so, her thinking is outdated and a part of a larger agenda which brought America its car-addicted lifestyle to begin with.
Vancouver, Canada: Recieves Gov't Grant to Study AVs
Vancouver has been awarded $386,000 grant from the Canadian government to build internal capacity and study the potential impacts of AVs. In particular, the study will focus on fleets for fire rescue, police, the park board, and the city's operational fleet.
Canada's First Self Driving Bus
Almost as exciting as when your kid takes their first steps, right? Montreal welcomes a $400k minibus which can carry 15 people and drive up to 25km/hr. For the time being, there will be an operator aboard during the pilot project. Another win for the minibuses!
I'm not even sure this is news worthy anymore, but another week has passed and the US Senate continues to move at a glacial pace when it comes to regulating AVs at a national level. Stalls this week surround questions of safety (very valid), legal and financial concerns.
FiveAI to Launch Shared AV Fleet in London in 2019
FiveAI will be delivering their first on-street trial in late 2019. It will be "a service aimed at commuters in the London outer boroughs of Bromley and Croydon". As a Londoner myself, I'll be keen to see how this pans out. Will the trips take people into the city centre? Will they be first and last mile linkages?
Industry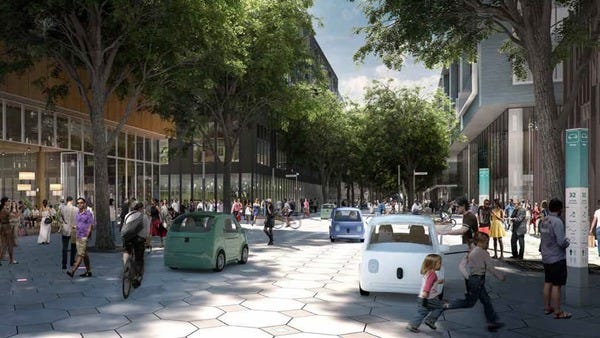 Sidewalk Labs: Toronto's Future Streets
The alphabet company is sharing the first glimpses of its Toronto Waterfront development. I personally love that this image includes cyclists, children playing and urban life in abundance. My only question: where is the public transport?
Bloomberg finds that private investment in self-driving cars in Q2 2018 surpassed all investments made in the last four years combined. My advice to you? Go get some equity and investment while ya still can.
Elon Musk is Doing God Knows What
From the sounds of it (if you can keep track), Musk is partnering with the likes of Goldman & Sachs to privatize Tesla. He is also planning to open-source Tesla's self-driving software (link). It's all a bit much to follow these days.
markets.businessinsider.com • Share
The unicorn company Quanergy which specialized in LiDAR detection for AVs was the talk of the town this week. The billion-dollar company has been struggling to keep up in the hyper-active industry, missing deadlines and loosing partnerships. Bloomberg investigates how it happens.
Business Insider shares the story of how Waymo's Stephanie Villegas came to work at the company and her foray into self-driving. Not the most informative piece, but interesting nonetheless.
uk.businessinsider.com • Share
Former St. Petersburg Mayor Joins Coast Autonomous
Rick Baker (former Mayor of St. Petersburg, Florida) is the latest addition to Coast Autonomous' advisory board. Coast designs "experimental, self-driving electric vehicles for cities looking to ease their mass transit woes". A good sign to see an auto OEM bringing on somebody with such a rich experience working in cities.
"Cities matter. We are at the beginning of an enormous wave of change that will improve the daily lives of people living in cities around the world. Properly focused on the pedestrian, self-driving vehicles will make cities more user-friendly, safe, comfortable, productive and interesting."
Research and Academia
Researchers from UC Berkeley discuss why they think autonomous vehicles need to be courteous. Yes, this may be the sweetest sounding automotive research project to date: "We find, for example, that courteous robot cars leave more space when merging in front of a human driver".
HBR: Better Roads and Infrastructure Will Makes AVs Safe
The Harvard Business Review argues that "getting the automotive technology right will only take us so far," and I couldn't agree more. Although the authors argue that roads need to be ready for self-driving cars, I would also add the caveat that while yes, roads will need to be adapted for AVs - we also need to consider how during this period of change we can prioritize human-powered travel on our streets.
Transport Innovation: A Roadmap for States
The National Governor's Association wants to help States embrace transportation innovations. They've released a new report which includes strategies for governors to implement and looks at AVs, but also EVs, ride-hailing and car-sharing, and drones. One such strategy is asking for there to be licensed drivers behind self-driving vehicles, which will likely be quite contentious.
Opinion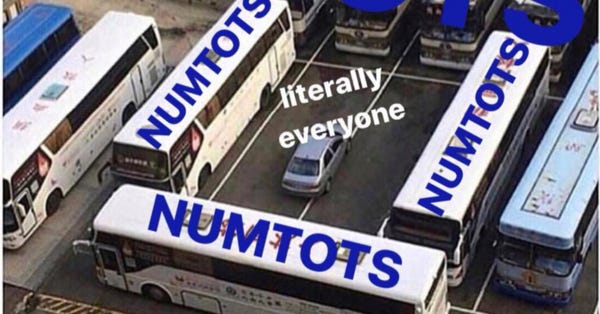 The NYT features a story on the beloved NUMTOTs (that's New Urbanism Memes for Transit Oriented Teens - if you're new). It's a light-hearted read and you should read this piece just the memes.
Have a beautiful weekend friends.
Sarah
By Sarah Barnes
This weekly newsletter on cities, transportation and technology is curated weekly by Sarah Barnes, a transport nerd based in San Francisco, CA.
The newsletter encourages new conversations about advanced transportation technology, primarily autonomous vehicles, which focus on people, equity, design and the cities we want to (and need to) be building for the future.
If you don't want these updates anymore, please unsubscribe here.
If you were forwarded this newsletter and you like it, you can subscribe here.
Powered by Revue
San Francisco, CA